Image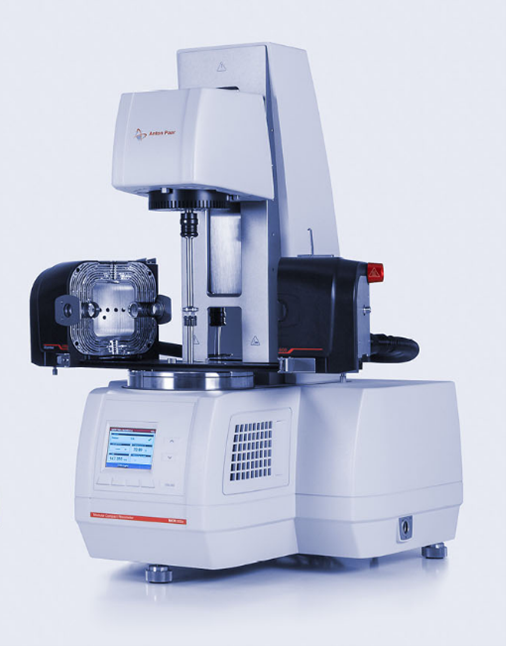 Location
Soft Materials Lab - B606
The Anton Paar MCR 302 rheometer excels in applications ranging from complex fluid analysis and microstructure investigations to time-dependent behavior studies and frequency-dependent viscoelastic assessments. With its precision-driven EC Motor Technology, dynamic frequency range, and modular adaptability, it's a top-tier choice for researchers. Complemented by the RheoCompass™ software, this instrument ensures accurate, in-depth rheological insights, backed by unparalleled torque resolution and versatile temperature control systems.
Applications
Complex Fluid Analysis: Ideal for studying the rheology of multi-phase systems, gels, and emulsions.
Microstructure Analysis: Suitable for analyzing the interplay between rheology and material microstructure.
Time-Dependent Behavior: Perfect for evaluating thixotropic and rheopexic behaviors of innovative materials.
Frequency-Dependent Studies: Analyze viscoelastic properties under varying frequency inputs to decipher material response.
Features
Toolmaster™ Technology: Automatic recognition of measuring system, ensuring correct configuration every time.
EC Motor Technology: Guarantees a vast dynamic range due to its bearingless and brushless design, providing both stability in low torque and speed control and the power to handle higher viscosities.
Wide Frequency Range: Capable of executing oscillatory tests from 1 μrad/s up to 628 rad/s, ideal for studying the dynamic behavior of materials.
Modular Setup: Allows users to expand the system based on their needs. From various measuring systems to environmental control units, there's an extension suitable for nearly every application.
Intuitive Software Interface: Paired with the RheoCompass™ software, it offers user-friendly operation and a wide range of application templates for various tests.
Specifications
Julabo FP 50 Chiller: -50 to 200 C
Minimum torque (rotation): 1 nNm
Minimum torque (oscillation): 1 nNm
Maximum torque: 230 mNm

       

Minimum angular deflection (set value): 0.05 µrad
Maximum angular velocity: 314 rad/s
Normal force range: -50 to 50 N