Image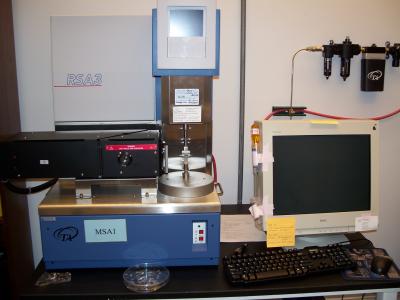 Model
TA Instruments RSA III
Location
Soft Materials Lab - B606
The TA Instruments RSAIII is a versatile research grade dynamic mechanical analyzer for the analysis of solid materials.  It uses an advanced direct drive linear motor to apply the strain and a patented Force Rebalance Transducer (FRT) to measure the force.  The RSAIII is particularly well suited for compression testing of soft materials, such as gels and elastomers, and for low stiffness, high frequency measurements on films and fibers.  The environmental chamber allows tests to be conducted at room temperature up to 600C.
Applications
Mechanical analysis (dynamic and transient) of films, fibers and elastomers. 
Deformation modes include tension, compression and 3 point bending.
Features
Tooling for tensile/compression testing of films and fibers
Tooling for compression testing of elastomers and gels
Tooling for 3 point bending testing of materials
Environmental chamber which allows testing at room temperature up to 600C
Specifications
Max force: 35N
Min force: 0.001N
Force resolution: 0.0001N
Strain resolution: 1nm
Frequency range: 2x10-5 to 80Hz
Temp range: RT to 600C
Heating rate: 0.1 to 60C/min