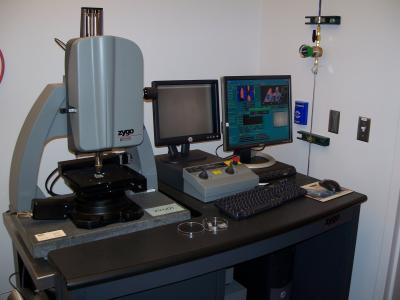 Location:
Other Characterization and Imaging Tools
Primary Training Contact:
The Zygo NewView 5000 is a high performance 3D surface metrology system.  It utilizes white light interferometry to produce a 3D topographical map of the sample surface.  All measurements are non-destructive, fast, and require no sample preparation.  Profile heights ranging from < 1nm up to 15mm are possible, with <1nm resolution.  This optical profiler can be used to characterize and quantify step heights, surface roughness, flatness and curvature, critical dimensions, and other topographical features.  The stitching option allows multiple topgraphic scans to be stitched together to form a large field of view image.
Applications:
3D surface topographical mapping    
Quantification of: 

Step height
Surface roughness 
Radius of Curvature

Films application allows for measurement of film thicknesses and surfaces in the 1-50um range
Features:
High speed measurement and analysis module
High speed, high resolution 640x480 CCD camera
MetroPro software for data acquisition and analysis
Motorized X, Y, Z, tip, tilt stage
Image stitching capability
2.5x, 10x, and 50x microscope objectives with adjustable zoom from 0.4x - 2.0x
Specifications:
Vertical scan range up to 15mm
Vertical resolution < 1nm
Lateral resolution < 1um